Karma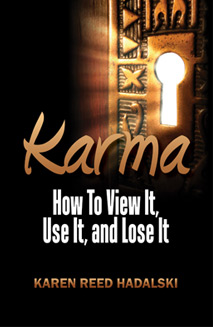 Karma: How to View It, Use it, and Lose It
 Karma isn't a mystery.  Karma isn't an esoteric philosophy.  Karma is a natural law–the law of Cause and Effect–and, just like gravity, it is constantly at work in the world and in your life, whether you know it or believe in it or not.  Karma: How to View it, Use It, and Lose It will give you the knowledge and tools necessary to discover and understand the playing-out of karma in your physical, mental, psychological, social, and spiritual life.  It will help you to make sense of your life-circumstances and provide a road map for traveling to a more fulfilling, joyous, and purposeful future.
It will also introduce you to a group of people who have successfully applied the tenets of this law, along with a clear understanding of the principles of reincarnation, to create productive, successful, meaningful lives for themselves: From inventors, composers, healers, and military leaders to teachers, business people, artists, and bureaucrats.  Once you've read it, your life and the way you view your world will never be the same.
Karma is now available for purchase at:  Amazon.com, pdbookstore.com, Barnes & Noble.com and select bookstores.
Excerpt:
Excerpt:  pp. 37-38:  "If everything in the observable universe has a cause, and every cause has a determinate effect; if "nature" includes not only the universe with all its phenomena, but the laws and principles that guide that universe as well; and, if we are a part of the natural world, how could it be that everything under the sun is governed by the same laws and principles–except human beings?
The concept of Karma is simply the extension of the law of universal causation to include man's moral and spiritual life.  It asserts that every decision we make must result in determinate consequences.  Karma is an impersonal law and should not be confused with the concepts of predestination or "luck."  Consequences do, indeed, result from every single decision we make; however, we make the free-will decisions that set this law in motion.  Our thoughts, words, and deeds determine every effect we experience in our lives–positive and negative–not the "lucky star" we were born under, the "dark cloud" that follows us around, or the "Hand of Wrath" that reaches down from the heavens to punish us."
Endorsements
There is no greater gift to all living beings, both now and in the future, than actively helping those in need.  If reading this book makes anyone a kinder person in this life, karma or no, it has done a great service.
Ingrid E. Newkirk, president and co-founder of People for the Ethical Treatment of Animals (PETA)
Ignorance is the refusal to accept facts.  Those who refuse to accept the overwhelming evidence of reincarnation, as noted in the works of the researchers referenced in this book, are doomed to make the same old mistakes over and over, life after life. For those who realize how critical completion of karmic relations is, now is the time to use this opportunity–or–to lose it.  Karma: How To View It, Use It, and Lose It is your key to overcoming ignorance and enjoying the fruits of karma.
C. Norman Shealy, M.D., Ph.D, Eminent physician, author, and founder of the American Holistic Medical Association
Karma: How To View It, Use It, and Lose It gives the reader an understanding of why each of us needs to take responsibility–personal responsibility–for every aspect of our life.  It not only explains the law of karma in its many, many aspects, but gives life-changing suggestions for how to neutralize any ill effects which, in our ignorance of this law, we may have caused.
Lawrence M. Steinhart, author of:  Edgar Cayce's Secrets of Beauty Through Health and The Crucial Questions
Karen Reed Hadalski's Karma: How To View It, Use It, and Lose It reads like a compass for the rest of your life.  Learn how you can free yourself from past hurts and wounds.  Find out how you can be a victor instead of a victim.  Follow Karen's wisdom and heal yourself from harmful relationships and destructive entanglements.  Empower yourself and resolve past hurts.  A blueprint for world peace can be found within these pages, and it all begins with ourselves.  We recommend this great book for all who seek inner peace and resolution.
Alex and Margaret Reichardt, authors of: All For The Love of God: Life with Mark Prophet, A Modern-Day Mystic and On Fire for God: Adventures on the Mystical Path with Elizabeth Clare Prophet.
Karen Reed Hadalski's efforts in Karma: How To View it , Use It, and Lose It  as well as in her previously written books: Enduring Destiny and Make Your Dreams Come True, reveal a compelling, eloquent message of love and respect for all of the earth's creatures, both two legged and four legged.  This world needs more souls who passionately and persistently search for truth and beauty, like Ms. Hadalski.
Len Lear, Editor, Chestnut Hill Local (Philadelphia, Pa.)
The book, Karma: How To View It, Use It, and Lose It, by Karen Reed Hadalski, presents a convincing argument for the validity of the cosmic principle of karma.  She persuasively insists that we are all connected, not only human-to-human, but also human-to-animal and human-to-environment.  Readers will feel a need and desire to create balance in their lives; they will understand that their actions affect not only the life they now live, but also those that they will come to live.  With this common purpose and understanding, singular actions of the individual take on greater meaning and lead to the betterment of all.
Cindy Thibault, Owner and Editor of Pet Tails Magazine
                                                  REVIEWS~ARTICLES~INTERVIEWS
Local Author Karen Reed Hadalski Strikes Literary Gold.